Feedback from some of our Customers and Passengers
Have you recently travelled or hired one of our coaches?
Please share your experience with us. Barker Bus is always happy to hear feedback. This is a great chance for us to hear about your thoughts and any suggestions you may have to allow us to continue offering the high quality service we aim to provide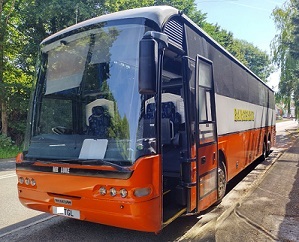 St. Mary's Home to School
Route Excellent. My child loves Barker Bus, he feels very safe and loves Matt as the driver. Any queries I have had have been quickly answered. Regular updates are prompt. Adequate payment options and realistic. Perfect time keeping. Driver is very helpful and attitude is flexible and understands each children's needs. Definitely recommends.
Just a quick e-mail to thank your driver for his care and attention.
Hello
Just a quick e-mail to thank your driver for his care and attention. One of the ladies who was with our girls in wheelchairs has just been to see me to say how good he was and that he could not do enough to help them.
Please could you pass on our thanks and we will certainly look to be using your company again in the future.
Kind regards
Carol service trip
We have used Barker Bus a few times now. The drivers are always helpful and polite. The company is great to work with and always happy to accommodate and very reliable. Would recommend them to any school or company.
Excellent
My child has started travelling with Barker Bus and she feels safe and comfortable. It's reliable and time keeping excellent.
BB6
Fantastic service and never had a problem. Friendly driver and clean vehicles.
Kay and Mick Beddall
We have known barker us for many years, as coach drivers ourselves. we chose Barkerbus for our travel we have found staff are friendly,very helpful as I am disabled,We have found their vehicles are all kept in pristine condition I would recommend them highly.Thanks for making our travel enjoyable.
Great service
My daughters recently started using the BB5 route to St Marys. The coach is nice & also comfortable, she is happy so I am happy! Friendly driver too, great Service
Thank you
Double Decker Coaches
Always good to deal with in my experience. A wide variety of different sized vehicles. One of only a few operators in the region to run double decker coaches too.The boss Peter is helpful, experienced and knowledgeable. His sons are following in his footsteps.
School Transport
BB6 St. Mary's
Firstly I would like to thank you for your excellent service. Your service has been so far excellent. My daughter enjoys the coach and does feel safe. Time keeping is excellent.
Only issue is having to pay for days that children are sent home by the school for self-isolation
Great service thank you Barkerbus
Excellent service and friendly staff, always there to help with assistance when needed too.
Excellent wheelchair service
Just a massive thanks to barkerbus for the fantastic service the other day. The driver was quick to get me and wheelchair on and strapped with the greatest of ease. He was very polite. Thanks again
Assistant Head Teacher
AS always, the service provided was great and everything went smoothly. Thank you
Fantastic coaches and staff
Fantastic service and excellent staff, Would highly recommend